Some Additional Information
---

We've included some additional information that should be of interest to you. If you find this info useful, we sure wouldn't mind hearing how you found out about us search engine?, a vacation web site? Just email a short note if you feel like it.

If you can adjust your schedule to fit our opening, we might be able to lower our rate.

Just email or call us to reserve a time. If our availabilities meet your needs, please call for the exact deposit/cancellation procedure. Basically we ask an approximate $500 deposit to hold with balance paid 45-90 days prior to your stay. There is no minimum length of stay, however the rates quoted are usual stays of about a week or three. Short stays, with cleaning and other arrangements, necessitate a higher charge. There is a discount for longer stays, depending on the season.


A LITTLE ABOUT THE AREA
---
This is the Wailea / Makena area of south west Maui. Our units are located on the beach and on the beach path. Here's how the resorts sit (from north to south along the path) Mana Kai, Surfside, Sorento's, HaleHuiKai, Wailea Ekahi (this is the south end of Keawakapu Beach), Renaissance (was Stouffer's) , Ulua Beach, Outrigger (was Intercontinental), Grand Wailea, Wailea Beach, Four Seasons, Wailea Point, Fairmont Kea Lani, Polo Beach Club.


A LITTLE ABOUT THE UNITS (High Speed Internet access now available)
---
2 Bedroom. Oceanfront, whitewater and beach view, sleeps 6-7 (king, 2-twins, 2-futons). Reverse osmosis water filtration system. Unit #207 is a beautiful, top of the line, 2 bedroom, 2nd floor unit, about 12 years old. Beach front (SANDY beach front AND sandy ocean bottom), no seaweed, located at the Polo Beach Club in Wailea on Makena Rd. Private oceanfront lanai, oceanfront pool, deck, and spa.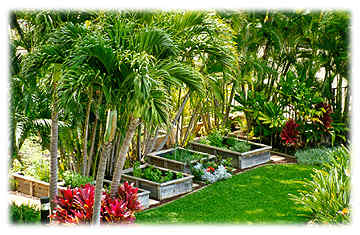 Herb Garden at Polo Beach Club

Both #207 and #104 feature garage parking, beautiful manicured grounds, close to golf tennis, shopping, restaurants, beach walking/jogging path. Elevator, 3 gas bar-B-quest, and herb garden. Hear the surf from our ocean view, white water, and beach view unit. Discounts on golf at Wailea. There is a gym in Kihei and at the Grand Wailea Hotel.

A floor plan is on our web page (#104 has the same layout), but briefly, the master suites has a king and the guest bedroom has 2 twins (which can be pulled together to make a king), a double futon and a single futon. There are 2 nice couches in the living room one large (neither are hide-aways). Two baths, large lanai, fully appointed kitchen, washer and dryer in the unit. A few of the items VCR, TV, CD player, tape player, beach towels and mats. All units are cleaned before and after each stay.

Unit 2 of 4) #104 POLO BEACH - 2 Bedroom. Prime Beach front ground floor 2-bedroom, sleeps 6-7(king, 2-twins, 2-futons). Unit 104 is ground floor right on the beach (well 10 feet of lawn, then beach), panoramic ocean view of 5 islands - this is the best unit at Polo. From its lanai (front porch) you walk out right to the sand of Polo Beach, and the view is panoramic (270 degrees, 180 of the ocean!) availability is also listed below. Reverse osmosis water filtration system. (Rate is about $100/night more than #207's rates).


ADDITIONAL INFORMATION ABOUT OUR UNITS, trAVEL HINTS, AND THINGS TO DO ON MAUI
---
We've included some additional information that should be of interest to you. If you find this info useful, we sure wouldn't mind hearing how you found out about us search engine?, a vacation web site? Just email a short note if you feel like it.


ADDITIONAL ACCOMMODATIONS
---
For more info on any property, please email us.

If our openings don't exactly match yours, there are a few options. You could do what we do sometimes, and spend a day or three at Lahaina or Hana at the beginning or end of our trip, in order to get a closer look at other parts of the island. The Sheraton at Black Rock is a great choice (808)661-0031 at the north end of Kaanapali, the Hana Hotel and Wainapanapa Cabins in Hana (The Department of Land and Natural Resources (Ground floor of the State Building) 54 South High St. Wailuku, HI 96793 Phone (808) 984-8190 Wainapanapa Park, outside Hana (Cabins available, book well in advance.) Also, we might have a friend with a unit next door available at the beginning or end of your dates, and we could incorporate their availability in with ours. Also Destination Resorts handles some Polo Beach accommodations (800) 367-5246.
Another choice is to stay at a neighbor resort at the beginning or end of a trip. Next door is...


The Kea Lani (800 659-4100)
The Grand Wailea Resort (808 875-1234)
Four Seasons (808 874-4000)
The Aston Wailea Resort (808 879-1922)
Maui Prince (808 874-1111)
The Renaissance Wailea Beach Resort (808 879-4900)

Let us know, and we'll see what we can do. (Hawaii's state tax, which includes vacation rentals, is currently 11.4%.)
Aloha, we still have open dates available - and I've attached some photos to this email. If you can come close to fitting any opening listed below, let me know which dates might fit your schedule, and I will work out a discount for you.


BRIEF SUMMARY
---
1) Choose Unit #104 or #306 - Polo Beach, Wailea, 2 bedroom prime beachfront, a high-end choice.
2) Polo Beach #207, #103, or #302 - Beach front 2 bedroom - $100 less per night than #104 / #306.
3) If you need a large beachfront (4-5 bdrms, sleeps 12-14) we have #103/#104 - joined by the lanai and lawn, at Polo Beach Club.
4) And finally....if there is anywhere in the world you would like to visit, we have accommodations in about any area through an exchange program with our condos. (Let us know the city, and we'll tell you what we've got).


RATES
---
Email for best rates


ISLAND ACTIVITIES
---
First of all, all you need is nearby. Most within walking distance or a short drive that does not involve traffic. You can walk to great restaurants, shops, and even golf. A short drive (or shuttle) takes you to tennis and other activities.

FOR CHILDREN (or adults)... The swimming pool is number 1 on the list, a good spot for swim lessons. Walking along the path, sand castles on the beach, the sugar cane train at Kaanapali, tropical Plantation-coconut chopping and train, shopping at Lahaina, and many movie theaters. The only "must do's" are our pool and beach. Four Seasons (short walk) has a Kids Day Camp - I'm not positive, but I don't think you have to stay there. Wailea and Makena Tennis clubs (just down the street) have kids programs. There are several sitting services in the yellow pages but we haven't used them.

SIGHTSEEING... There is so much to see, it takes many trips to see it all, but taking the walk through the Iao Needle park, the road trip to Hana with the waterfalls on the way, don't forget to pick up a cassette tape in Kahului of what to see on the way, Twin Falls, and shopping at Lahaina. Kids or adult golf(5 18's nearby, 6 close by, and 5 more at Kaanapali/Kapalua). Just playing in the sand at our beach is probably the best though (for kids and everyone). Our swimming pool, spa, and sun deck is ocean front, and you can walk/jog on the beach path. There's are excellent art galleries at The Shops of Wailea, and Wednesday and Friday nights are artists night there and in Lahaina. tropical plantation tours, Sugar cane train, horse back riding either upcountry or at Makena Stables, movie theatres- in Kihei or Kahumanu Center in Kahului. Boy, it's just about endless. Surfing, body-boarding and body surfing, wind surfing, snorkeling - all right in front. Beginning surfing at Cove Park, advanced surfing all over. Excellent restaurants are nearby - Roy's, Nicks, Cucina Pacifica, Pacific Café, SeaWatch, Carelli's, a more. For kids McDonalds, Taco Bell, Panda Express. Many coffee houses with great local beans. We've been going for 17 years and have not done it all. There are also sitting services in the phone book, and free activity guides in the office or around town. A great Luau is available at the nearby Outrigger Hotel - waking distance, great fire dancer, and yes it is all you can drink. Whale watching is best during the January to April period. You can often see them right from the units or the beach.

SNORKEliNG... Some of the best snorkeling on the island is just a short swim north to Wailea point, and a short swim south to "Medievals reef", both basically right in front of the Polo beach club.

TENNIS... is available at Makena or Wailea. Wimbleton West - the Wailea Tennis complex is about 1 mile and has about 14 courts! (They may still have a grass court). Restaurant and Pro shop.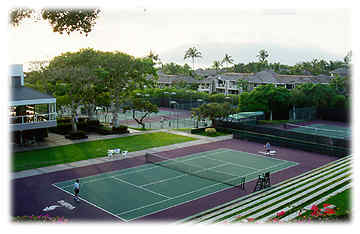 Tennis Courts at Wailea

About 2 miles south is the Makena Tennis complex 808-879-8777 (by The Maui Prince Hotel), approx. 8 courts, but what we like best is renting the ball machine for an hour. Fill it up (gathering sweeper included), and it shoots perfect backhand or forehand shots to you. Don't even need a partner. Harrison Ford was getting a lesson from then same Pro as us one week. If you need a partner, (and Harrison isn't around), the best bet is to call the Wailea Tennis Club (808-879-1958) when you arrive (or even before) and sign up. They will find you someone else who wants to play and you can schedule a time. Ask about round-robbins, and other options.

SURFING... and windsurfing are excellent, from advanced to beginner. Right on our beach is body surfing, boogie boarding, skim boarding, and windsurfing, and surfing is just one peak to the south. (Of course conditions depend on how good the surf is that is hitting Maui at the time). There is a great beginner surf spot down the road in Kihei called Cove Park - right off the main road before Foodland Market. This is where our kids learned to surf and has to be one of the easiest, funnest, and quickest learning waves on the planet. Easy access and relatively safe. Rental boards available at Local Motion or Honolua surf shops. Intermediate surfing at 1,000 peaks between the cave tunnel on the way to Lahaina, and Olowalu. Hundreds of other spots around the island depending on ability. Lessons available at several places in the yellow pages including Maui Surfing School 875-0625, and Emerson at 874-1183.

GOLF... Across the street is the Wailea Blue Course with pro shop, restaurant and bar. There is a discount for our Polo Beach guests and our Ekahi guests. (Great after 12 rates).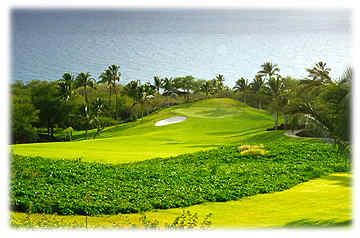 Hole #1 on the Emerald Course at Wailea

Next to that are the Wailea Gold and Emerald courses with clubhouse, restaurant, bar, pro shop. Five minutes down the street are the 2 Makena courses - our favorites - also with twilight rates and sometimes morning foresome rates. Towards Kihei is the Elair (Silversword) course (low rates all the time, but not a resort style course, but still great). Pukalini, Sandlewood, Maui Country Club, Kaanapali North and South, Kapalua Bay, Plantation, and Village courses, 2 more courses on Lanai, The Dunes at Kahului, and the Waiehu public course just past Wailuku.


TRAVEL INSURANCE
---

Travelocity
World travel Center
Travel Safe


Thanks and Aloha,

Tony and Jennifer Talbott
(831)426-0691 PST
(800)486-2667 PST
Email: aplusresorts@earthlink.net